---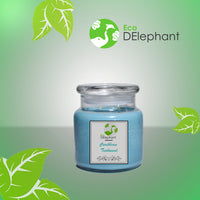 Scented Candle-Homemade Caribbean Taekwood /Vela Arómatica-Casera Madera de Teca Caribeña. 
Aroma: Caribbean Taekwood.
Description: Our Caribbean Teakwood soy candle is masculine, bold, and complex, leading with spicy top notes of ginger, peppercorn, and spice. The middle notes of tobacco leaf and aged teakwood blend into the woody, deep base of sandalwood, amber, and dark musk.
********************************************************
Aroma:Madera de Teca Caribeña.
Descripción: Nuestra vela de soya de madera de teca del Caribe es masculina, atrevida y compleja, y lleva con notas de salida especiadas de jengibre, pimienta y especias. Las notas medias de hoja de tabaco y la madera de teca envejecida se mezcla con la base leñosa y profunda de sándalo, ámbar y almizcle oscuro.