---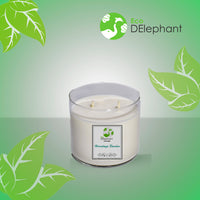 Scented Candle-Homemade Himalaya Bamboo White /Vela Arómatica-Casera Bambú de Himalaya Blanco  
Aroma: Himalaya Bamboo White.
Description: A clean, uplifting, aromatherapy scent reminiscent of bamboo swaying in the wind. Not too overpowering, this candle has a natural, floral aroma and is infused with Bergamot essential oil,with notes of lime, grass, green leaves, cucumber & violet.
********************************************************
Aroma: Bambú de Himalaya Blanco.
Descripción: Una fragancia limpia, edificante y de aromaterapia que recuerda al bambú meciéndose en el viento. No demasiadoabrumadora, esta vela tiene un aroma floral natural y está impregnada de aceite esencial de bergamota,con notas de lima, hierba, hojas verdes, pepino y violeta.